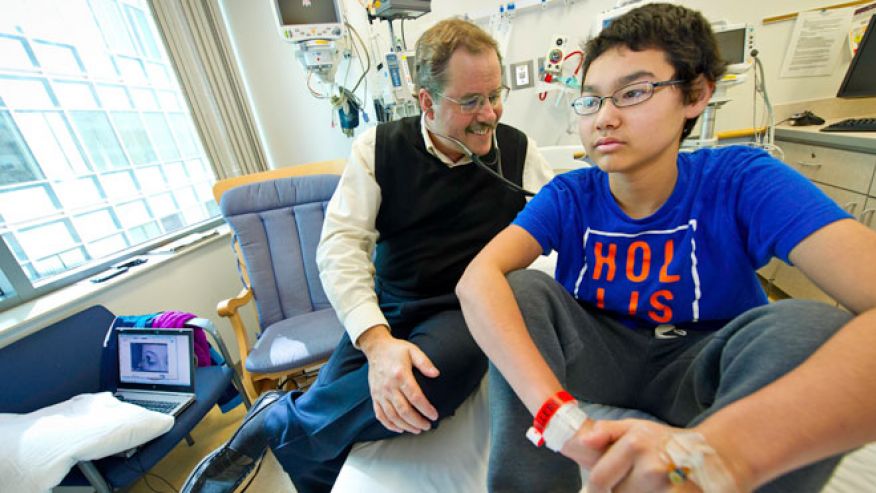 Published December 08, 2014
Scientists at the Children's Hospital of Philadelphia (CHOP) have invented an immunotherapy that has successfully treated children diagnosed with a highly aggressive form of acute lymphoblastic leukemia (ALL).
For the therapy, which began its clinical trial two and a half years ago, researchers use a non-active form of the human immunodeficiency virus (HIV) to modify the DNA of patients' virus-fighting T cells.
"We have engineered out all the properties of [HIV] that could cause somebody to get sick," study author Stephan Grupp, director of translational research at CHOP and a pediatrics professor at the University of Pennsylvania, told FoxNews.com. "The only thing that's left is the ability to change the DNA of T cells."
The bioengineered T cells, called CTL019 cells, express a unique protein, which causes an interaction between the T cells and the patient's B cells. In leukemia, some of a patient's B cells become cancerous, while others remain normal.
Researchers observed that when the CLT019 cells and B cells interacted, the CLT019 cells bound to a protein on all of the B cells' surface, killing the B cells. The modified T cells duplicated enough to eventually exterminate the cancer.
"This is completely different from a drug," Grupp said. "These T cells grow within the patient and basically grow until they kill all the leukemia."
The CLT019 cells also appeared to help protect against cancer's recurrence, the study authors noted. One month after treatment, the therapy sent ALL into remission in about 92 percent, or 36, of the 39 patients. Of those patients, 25, or 69 percent, remained in remission six months after treatment. Among the 36 patients with success, 10 relapsed. Five of the relapsed patients died.
According to the National Cancer Institute, ALL is a cancer of the blood and bone marrow that prevents the body from producing mature blood cells, an inhibition that suppresses the immune system. ALL is the most common cancer diagnosed in children and represents about 25 percent of cancer diagnoses among youth under age 15.
Grupp's study participants included children to young adults between ages 2 and 24.
Each year in the United States, an estimated 2,900 children and adolescents younger than 20 years old are diagnosed with the disease.
Two to three years of chemotherapy or radiation helps an estimated 85 percent of children with ALL, but these treatments are ineffective in the remaining 15 percent, Grupp said.
"Those are the patients that came to us for that study— these are kids that have no other treatment options at all and often have diseases that do not respond to any type of treatment," Grupp pointed out.
Before enrolling her son, Nick, in Grupp's pilot study, Lisa Wilkins saw him through two and half years of chemotherapy, radiation and a bone marrow transplant from her daughter, Nick's older sister, Brittany. Nick— who was diagnosed with ALL at age 4— was 11 at the time of the bone marrow transplant. The procedure and recovery caused Nick to miss his entire sixth grade year at school.
Three years after the transplant, during a follow-up appointment in February 2013, doctors saw that Nick had relapsed. Nick received a cord blood transplant and another round of chemotherapy, which proved ineffective.
Nick's doctors presented the family with two potential treatments that were undergoing clinical trials— one was Grupp's, and the other was the drug Blinatumomab, which the Food and Drug Administration (FDA) granted accelerated approval on Wednesday.
"To me, the T cell study [at CHOP] seemed like it had a lot of potential," Lisa Wilkins said. "They had two patients at the time, so there wasn't a lot of data. The more I read about it, the more I thought, 'This is what we need to do.'"
Shortly after receiving the treatment, Nick was admitted to the ER due to a high temperature, a common side effect of the treatment, and spent two weeks in the hospital.
Today, at home, like any patient who gets the treatment, he must receive immunoglobin, which Lisa administers with four needles once every two weeks, through a process called subcutaneous infusion. While the immunotherapy aids in killing the cancerous B cells, it also kills the healthy B cells. These infusions provide the immune function performed by normal B cells.
Eighteen weeks post-treatment, Wilkins said Nick, now 16, is studying to get his driver's license and preparing to try out as an outfielder on his high school baseball team.
"He looks great— he's healthy, active. He's doing all the things he's supposed to be doing that he didn't get to do when he missed his entire year of sixth grade," Wilkins said. "We are cautiously optimistic about the future for him, but that's all we can do."
Grupp said the study is ongoing and beginning a multi-site trial funded by Novartis, which has licensed the therapy. Researchers will conduct the trial in a rolling fashion in at least eight pediatric hospitals nationwide. The first patient was enrolled in August.
Novartis says its goal is to submit an application for FDA approval by 2016. Thinking long-term, Grupp said researchers plan to analyze whether the T cell therapy has the potential to treat other types of cancer such as lymphoma.
"In theory, you could imagine making these cancer-fighting T cells for other types of cancers," Grupp told FoxNews.com. "The next huge question in the field is, 'Can we adapt this therapy for other types of cancers?' We're just beginning to do that, but seeing in the ALL patients will allow us whether it's going to work the same way or not."
Grupp presented his team's results for the pilot study on Saturday at the annual meeting of the American Society of Hematology (ASH) in San Francisco, Calif.