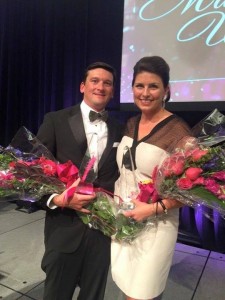 FiduciaryFirst and Lauren Fernandez ask for help in their fundraising efforts to help support research for The Leukemia & Lymphoma Society. Her record-breaking goal of $100,000 has been extended till June 30th.
June 24, 2015 8:39 AM EDT   Send to a Friend
ORLANDO, Fla., June 24, 2015 /PRNewswire-iReach/ — FiduciaryFirst is asking for help to raise the last $5,000 towards a goal of $100,000 for one LLS funded research protocol in honor of Lauren Fernandez's mother, who lost her battle with T-Cell Lymphoma.  Campaign donations last until Friday, June 26 at 5:00 pm EST.
Donations go directly into action: over 77% of each dollar raised goes directly to cutting edge, life-saving research, like the exciting way researchers are using HIV retrovirals in to treat cancer patients.  It is believed that a cure could be right around the corner using innovative therapies like this one.
FiduciaryFirst is supporting and contributing to this campaign, and Ms. Fernandez is asking for help from individuals, a minimum of $500.00, or organizations, a minimum $5,000, to make a contribution commitment now.  The LLS has given Lauren a small amount of time to raise these funds and a 10-1 matching campaign. This contribution does not need to be in the form of one payment, but a commitment to fund a certain amount over the course of a determined time.
If interested in donating to this worthy cause, please visit here: TeamFernandez.org/donate
About Lauren Fernandez:
Lauren Fernandez was the oldest daughter of Kyle, who was a mother of four, wife of a surgeon, nurse and PhD, Doctor of Psychology. Lauren Fernandez is leading a fund raising effort for The Leukemia & Lymphoma Society. To learn more, visit http://teamfernandez.org/so-why-are-you-doing-this/
About FiduciaryFirst:
FiduciaryFirst, an independent, fee-only advisor dedicated to helping clients build and manage highly effective retirement plans, all while sharing the investment fiduciary responsibility associated with each plan to mitigate corporate and personal risk. To learn more, visit http://fiduciaryfirst.com.
Media Contact: Nikolas Adams, FiduciaryFirst, ext 211, NikolasAdams@fiduciaryfirst.com
News distributed by PR Newswire iReach: https://ireach.prnewswire.com
http://www.streetinsider.com/Press+Releases/Lauren+Fernandez+Raises+$94,500+in+10+weeks+for+Leukemia+%26amp%3B+Lymphoma+Society+and+is+named+LLS+Woman+of+the+Year/10675291.html